Free Australia-Wide Shipping On All Orders Over $150!
Birthstone Jewellery by Month
January: Garnet
The birthstone for January is garnet, a beautiful gemstone that symbolises friendship, trust, and loyalty. Garnet gained popularity during ancient Egypt, where it held significant meaning as a token of trust and friendship exchanged between companions. In this ancient civilization, garnet gemstones were cherished for their deep red hues and were given as heartfelt symbols of enduring camaraderie and loyalty.
February: Amethyst
Amethyst, the February birthstone, has a captivating history. Admired for its purple hues, this gemstone was highly valued by the Greeks and Romans, symbolising prestige and clarity of mind. Amethyst's royal allure continued into the Middle
Ages when it was featured in crowns and regal accessories.
March: Aquamarine
Aquamarine, the birthstone of March, is a breathtaking variety of the mineral beryl. This gemstone derives its name from the Latin words "aqua" and "marina," meaning "water" and "of the sea," respectively, perfectly describing its mesmerizing light blue hue. The gemstone's association with the ocean and its serene qualities has made it a popular choice for jewelry and decorative adornments.
April: Diamond
Diamonds have been treasured as a testament to enduring love and commitment, often adorning engagement rings and other significant jewellery pieces. Beyond their unmatched durability, diamonds possess the unique quality of being cut and polished to radiate breathtaking brilliance. The captivating sparkle of diamonds has fascinated wearers throughout history, solidifying their status as the most sought-after and valuable gemstone.
May: Emerald
The emerald birthstone symbolises growth, renewal, and vitality, with its captivating green color, Throughout history, emeralds have been revered and treasured by various civilisations, from ancient Egyptians who considered them a symbol of rebirth and fertility to the Incas who regarded them as sacred. The emerald birthstone carries a sense of elegance and timelessness, making it a cherished gemstone that represents beauty, rarity, and the enduring splendor of
nature.
June: Pearl
The pearl birthstone holds a soft, iridescent glow and delicate luster making them a symbol of refined beauty. As an organic gemstone formed within mollusks, pearls are associated with purity, innocence, and integrity. Unlike other gemstones, pearls are created by living organisms, giving them a distinctive organic charm. The pearl birthstone carries a sense of grace and understated elegance, representing the natural wonders found in the depths of the sea and embodying the enduring appeal of classic sophistication.
July: Ruby
Ruby, the birthstone of July, symbolises passion, vitality, and courage with its vibrant red color. The intense hue of rubies is often associated with love and desire. Ruby is known for its exceptional hardness, ranking only second to diamonds on the Mohs scale, making it a durable gemstone suitable for daily wear.
August: Periodt
The birthstone for August is Periodt. Known for its vibrant green color, peridot symbolises abundance, growth, and harmony. The unique hue of peridot ranges from light green to olive or brownish-green tones. Peridot has a captivating glow and a charmingly transparent appearance. The peridot birthstone embodies a fresh and invigorating spirit, representing nature's abundance and the beauty of the natural world.
September: Sapphire
One captivating characteristic of the September birthstone, sapphire, is its remarkable color range. While commonly known for their stunning blue shades, sapphires can also be found in an array of captivating colors, including pink, yellow, purple, green, and even rare orange hues. This vast spectrum of colors
adds to the allure and versatility of sapphires, allowing for a wide range of exquisite jewellery designs.
October: Opal
Opals are fascinating gemstones renowned for their captivating play-of-color. These iridescent displays create a mesmerizing dance of vibrant hues when viewed from different angles. With a wide range of colors and unique patterns, each opal is
truly one-of-a-kind and highly sought after. Associated with hope, creativity, and love, opals hold a rich history and continue to captivate with their enchanting beauty.
November: Citrine
Citrine is an intriguing gemstone known for its warm, golden hues. It is often associated with happiness, joy, and warmth, adding to its allure. With its affordable and abundant nature, citrine is a popular choice for jewelry, bringing a touch of sunshine and uplifting energy.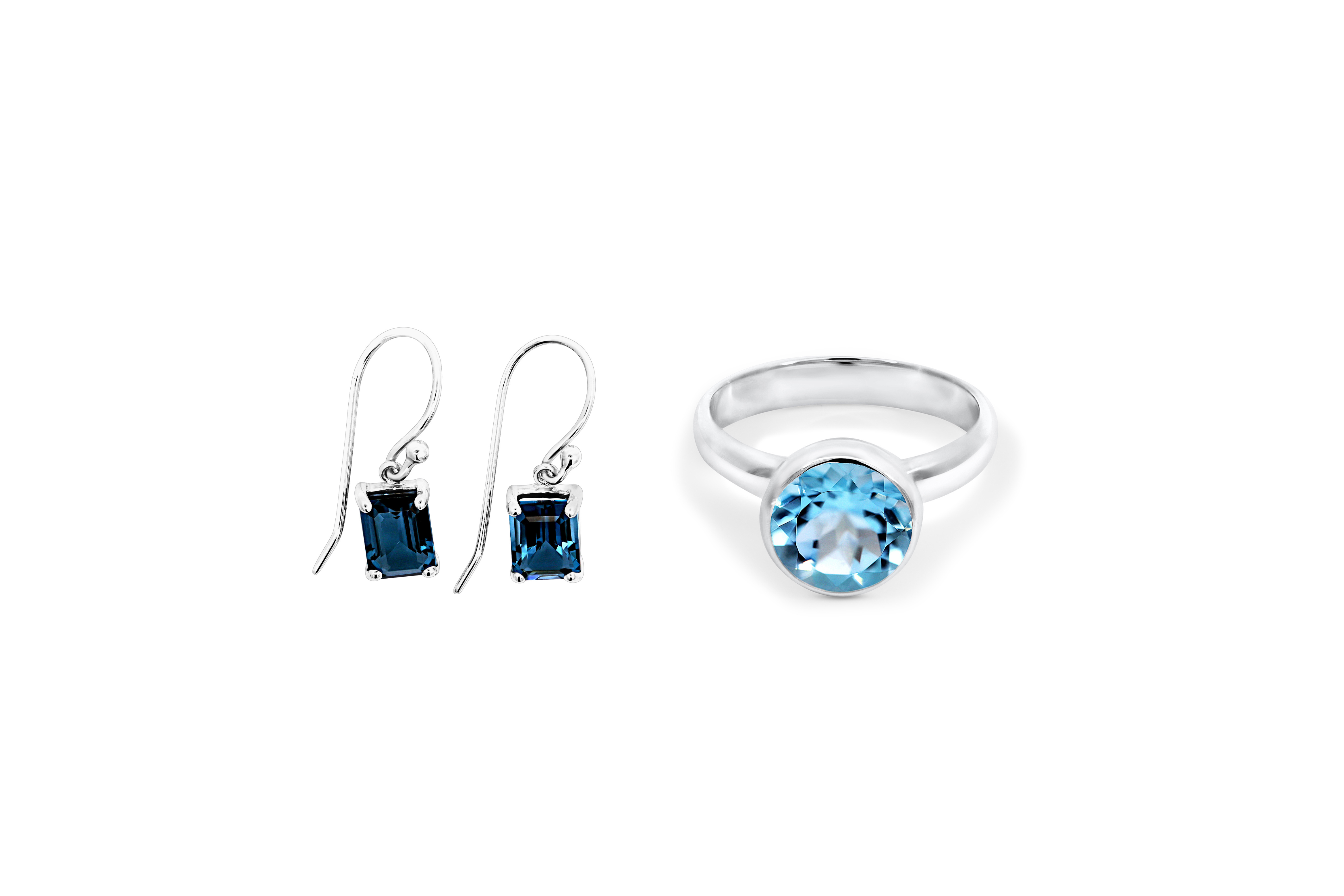 December: Topaz
Topaz, the December birthstone, is a captivating gemstone known for its vibrant colors, including yellow, blue, pink, and rare red hues. In ancient times, topaz was believed to possess protective properties and bring about healing and strength. With exceptional brilliance and durability, topaz sparkles with a remarkable luster. This versatile gemstone withholds a hardness rating of 8 on the Mohs scale, making it suitable for various types of jewellery.