Free Australia-Wide Standard Shipping On All Orders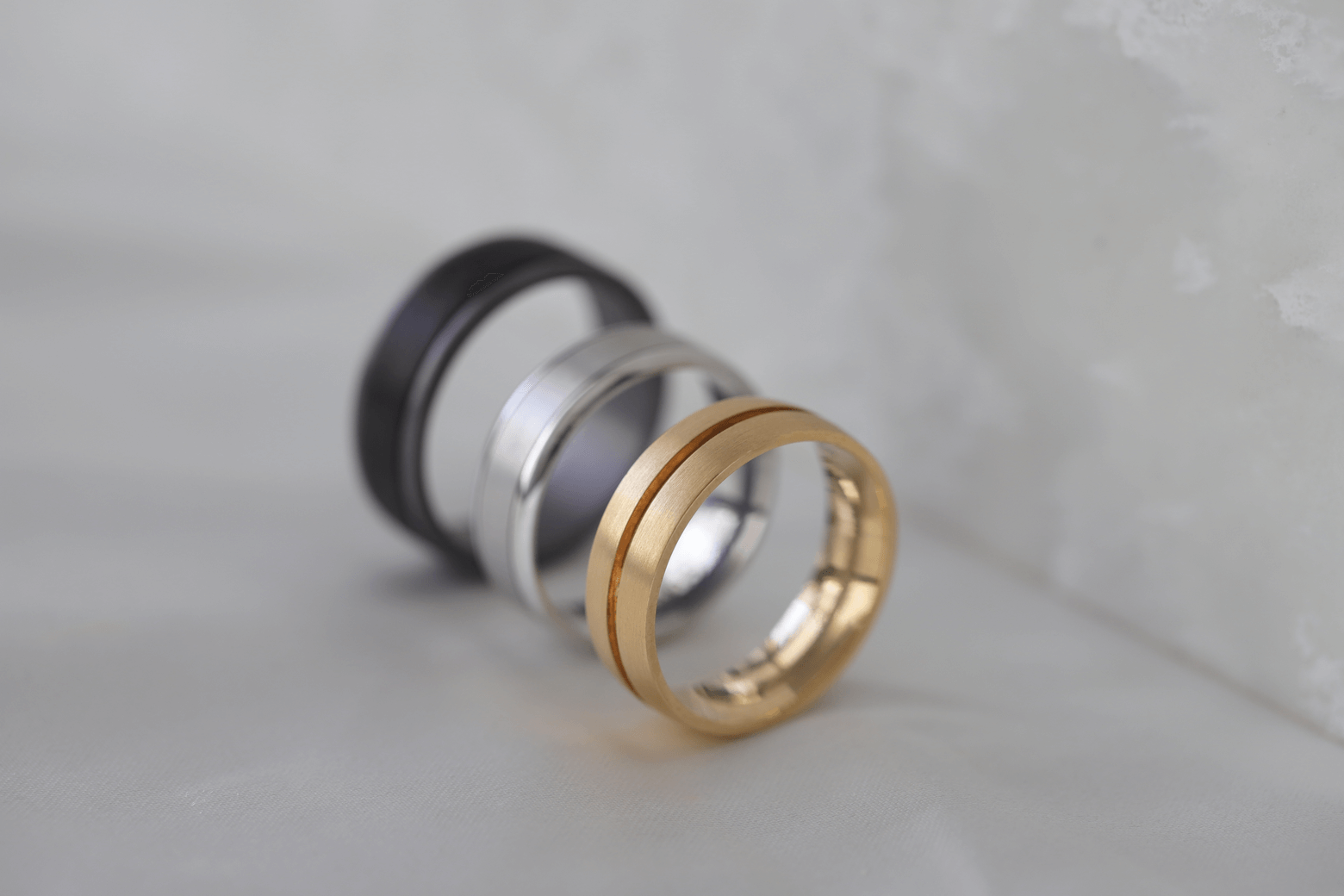 Men's Wedding Rings
UNLEASH THE STYLE OF YOUR DREAMS WITH OUR MEN'S WEDDING RINGS IN AUSTRALIA
Weddings are a special occasion, a celebration of love and commitment. And one of the most essential symbols of this commitment is the wedding ring. Here at My Jewellery Shop, we offer an exquisite collection of men's wedding rings and bands in Australia, crafted with a touch of luxury and love. We know that every groom has their unique style and preferences, so our range of men's wedding rings in Australia is designed to cater to different tastes. This way, our passionate team can ensure that every man finds a ring that complements his personality perfectly! From elegant gold bands to striking black rings, My Jewellery Shop will make sure you have an abundance of options when it comes to selecting the ideal symbol of your eternal love. Read More
DEDICATION TO QUALITY CRAFTSMANSHIP AND MATERIALS
We don't want you to just look good - we want you to feel good in what you're wearing, and we understand that quality is paramount. 
Our family-owned business takes pride in providing men's wedding bands Australia-wide, that are not only aesthetically pleasing but also stand the test of time. Our men's wedding bands are crafted from high-quality materials, including yellow gold, white gold, rose gold and titanium. Each ring is meticulously designed and crafted to reflect excellent craftsmanship and enduring quality, making it a true investment piece that you'll love to wear every day!
WE PROVIDE MEN'S WEDDING BANDS AUSTRALIA-WIDE
At My Jewellery Shop, our customers are at the heart of everything we do. Our friendly and professional team is always on hand to provide advice and guidance, helping you find the perfect wedding ring that fits your style and budget. Not only that, but our seamless online shopping experience allows you to browse and select your preferred ring from the comfort of your home.
SHOP NOW AND EXPERIENCE THE MY JEWELLERY SHOP DIFFERENCE
We are more than just a jewellery shop; we are a community of individuals who believe in celebrating love, style, and individuality. Shop with us for men's wedding bands, Australia, and join our ever-growing family of satisfied customers!
MEN'S WEDDING RINGS AUSTRALIA - FAQs
What types of men's wedding rings do you sell?
At My Jewellery Shop, we take pride in selling a diverse range of men's wedding rings Australia-wide Our collection includes traditional yellow gold mens wedding rings or silver men's wedding bands, modern black and rose gold rings, titanium rings and even mens diamond wedding rings. Our aim is to cater to all tastes, ensuring every groom can find a ring that resonates with his personal style.
Can you help me choose the best men's wedding bands Australia-wide?
Absolutely! Our team at My Jewellery Shop is always ready to assist you in choosing the perfect wedding band. Whether you need advice on the right metal, the ideal band width, or you are simply looking for a professional opinion, we are here to help. Our aim is to make your wedding ring shopping experience as seamless and enjoyable as possible.
Do I have to visit in-store or can I use your website to buy men's wedding bands?
Of course! We understand that you may not have the time to visit our store in person on the Gold Coast. The good news is, our website offers a wide selection of men's wedding bands, Australia-wide. You can browse through our range at your leisure, read detailed descriptions, and make your purchase online. We offer secure payment options and reliable delivery services to ensure your shopping experience is as convenient and enjoyable as possible.
Do you provide customisation for men's wedding bands Australia-wide?
We sure do! At My Jewellery Shop, we know that a wedding ring is a deeply personal item and we want you to cherish yours for a lifetime! If you have a specific design in mind or you want to add a personal touch to one of our existing designs, get in touch with us. Our skilled craftsmen will work with you to bring your vision to life.
How can I determine my size when buying men's wedding bands in Australia?
If you are unsure about your ring size, you can either visit us in-store or check out our handy ring sizing guide on our website for an estimate. If you have any questions, our team is happy to help, as always. With our stunning collection of men's wedding bands in mind, we're confident you'll find one you love at My Jewellery Shop!
How do you take care of men's wedding rings?
Caring for your wedding ring ensures it maintains its beauty over time. Depending on the material, the ideal care instructions will vary. However, general recommendations include removing your ring during manual tasks, cleaning it regularly with a professional jewellery cleaning solution, and having it checked by a professional annually. If you want specific instructions for a ring you buy from My Jewellery Shop, we would be happy to help!
Read Less